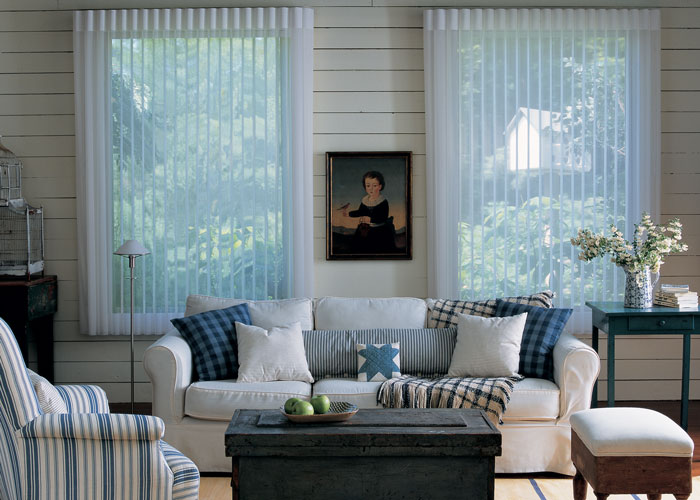 Give New Definition to Windows With Our Luminette Blinds
Luminette Privacy Sheers offer an inspired, elegant alternative to traditional draperies. It may come as some surprise, however, just how practical these sophisticated sheers are, as well. It starts with the innovative design. Soft fabric vanes attached to sheer facings rotate between the open and closed positions to achieve any level of illumination desired.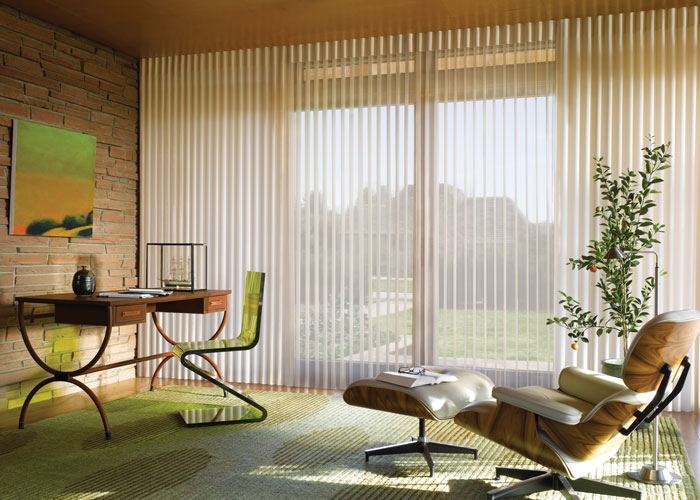 Wide range of light control
The Luminette Blinds offers shade to cover wide expanses up to 192" x 120" – sheers. Luminette Privacy Sheers provide the widest range of light control possible, with a sheer face fabric to let in and attached soft fabric vanes to keep light out. Provide protection from harmful ultraviolet rays even with the vanes open.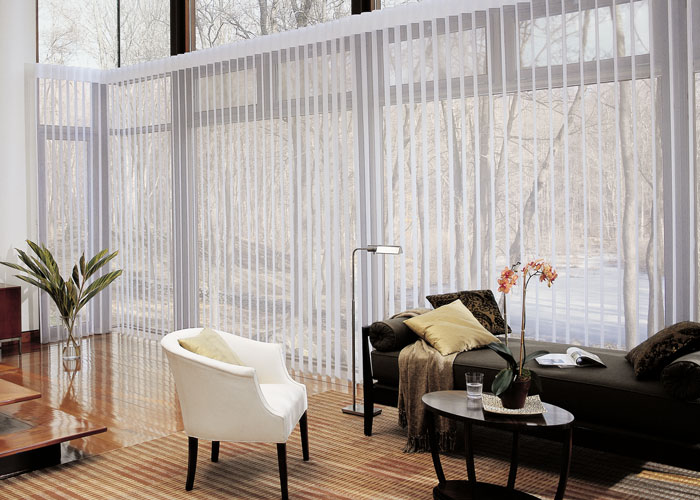 Open, this beautiful window fashion stacks cleanly in minimal space, assuring your favourite views remain unobstructed.
Closed, the vanes assure privacy and the ultimate in light control.
You decide between the safety-minded wand/ cord combination, Travelling Wand ™ , or automated PowerGlide ®, with its sleek, single-touch remote.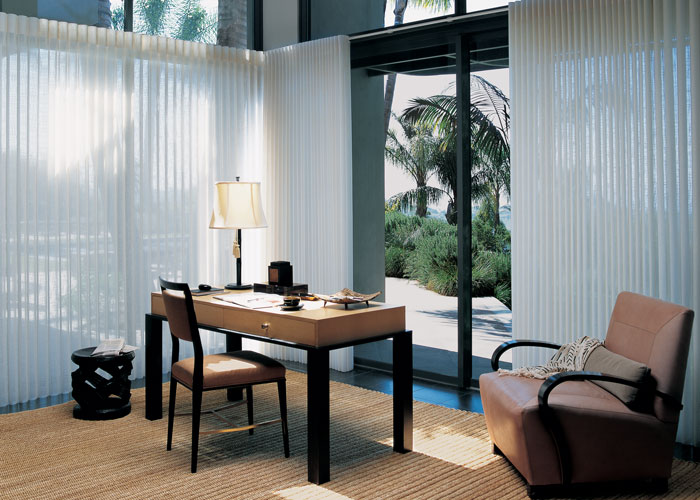 Choices of fabric to choose from
Then there's the choice of seven exceptional face fabrics… one to enhance every room. While every fabric in the Luminette Vertical Blinds grouping is noteworthy, first mention goes to a fresh new set of textures. Sheer Linen offers the subtlety of a smartly tailored weave. Summer Breeze with its barely there checks, delivers a breath of fresh air to decorating challenges. And contemporary, fluid Abstractions dances in the light.
The fabric types consist of: Angelica, Linea, Stria, Originale ™ , Solar Screen, Voyant ™ , Terra and Sheer Linen. All are available in an array of preferred whites and neutrals. Fabric vanes are available in two opacities: translucent and room darkening.
• Translucent
When closed, the translucent vane option creates a luminous glow and discreet privacy.
• Room Darkening
When closed, the room darkening vane option blocks more light and provides even more privacy.
A closer look at Luminette Blinds
| | |
| --- | --- |
| Product | Soft fabrik vanes attached to sheer facings |
| Color options | Subtle palette of whites and neutrals |
| Fabric types | Fabrics with the look of voile, contemporary or scroll patterns, crisp lines, delicate shadow checks and classic linens |
| Room darkening option | Yes |
| Uniform exterior appearance | Yes |
| Remote control option | Yes, PowerGlide ® |
| Child safety features | Yes, proprietary PowerGlide and combination wand/ cord |
| Coordinates | Yes, with select Silhouette ® window shadings |
| Dust resistant | Yes, easy to clean |
| UV blocking | 99% when vanes are closed |
| Energy efficiency | High |
| Design options | Side stack or split stack available |
Personality meets practicality in Luminette Privacy Sheers.Created of 100% polyester fabric, they offer exceptional durability and easy maintenance – just a light feather dusting or gentle vacuuming. Reliable operation is assured with our exclusive SofTrak ™ traversing system, while fine details – such as the fray – resistant bottom fabric finish – speak volumes about our commitment to perfection.